Tim Moore
from Pastiche Modern Eatery
Posted: 09/18/2013


BIO:

Chef Tim Moore loves the mission and idea behind Pastiche, the eclectic American restaurant he's been working at for seven years. Pastiche means to steal from other people's work and put your own spin on it, and Chef Moore creates recipes that do just that.
Take, for instance, his take on duck a l'Orange, a classic French dish. His version is seared and topped with an orange-brown sugar glaze and accompanied by beet risotto. But he suggests that a new visitor to Pastiche start with the baked mac and cheese, a dish that some would consider simple.
"It's the best mac and cheese I've ever had," Chef Moore said. "I would tell someone to get that just to show them what we can do, that we can turn a simple dish like macaroni and cheese into something outstanding."
Chef Moore, a Tucson native, has been working in the city's restaurant industry for 13 years. He started as a dishwasher, then moved around through all front and back of house positions before settling in as executive chef at Pastiche a year and a half ago. His small staff is more like a family.
"I just kind of discovered that my place was more in the kitchen and not with people," Moore said. "I enjoyed dealing with the food and seeing people smile after they ate."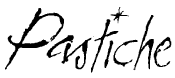 PHILOSOPHY:

In his time as executive chef so far, Chef Moore revamped almost the entire Pastiche menu. The menu previously changed seasonally, but the new menu is the first big change in the past five years. Only a few items survived the overhaul.
To get inspiration for the new menu items, Chef Moore tried out recipes as specials for a few months. He mostly gets his ideas from food shows, cookbooks or food magazines, which he likes to read in what little spare time he has. "I don't really have a life that doesn't consist of food," Chef Moore said.
In addition to the brand new menu, Pastiche is starting to embrace the craft beer industry. The restaurant previously focused mostly on wine, and they still have a strong wine presence, but Chef Moore just couldn't ignore Tucson's growing craft beer scene. They do wine and beer pairing dinners and always keep a couple local beers flowing on tap.
Being an executive chef comes with a lot of stress: the hours, the heat, the time spent on your feet. And to top it all off, he's in the final stages of planning his wedding. But it's all worth it for Chef Moore when he gets to see the smile on a customer's face after they've enjoyed one of his meals.